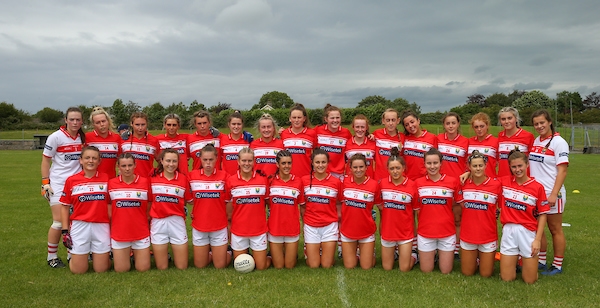 Monday 5th August 2019
All-Ireland Minor A Final – ET if necessary
Cork v Monaghan; Bord na Móna O'Connor Park, Tullamore, 3pm
Cork are contesting a sixth consecutive All-Ireland Minor A Final, which is a quite remarkable record of consistency, while Monaghan have reached this stage for the first time in 20 years.
Having lost out to Galway in a magnificent Final at the Gaelic Grounds last year, Cork are back for another shot at glory, having won three successive titles from 2015-2017. Monaghan, meanwhile, will hope to add to their previous All-Ireland Minor A title wins from 1994, 1998 and 1999.
Cork gained revenge over Galway at the semi-final stage, as Monaghan enjoyed an impressive victory over Meath.
Cork can call upon seven survivors from the team that started the 2018 Final, including the same inside trio of Ellie Jack, Katie Quirke and Fiona Keating, while Abbie O'Mahony came on as a sub against Galway last year.
Monaghan will look to Hannah Sherlock and Amy Garland for attacking inspiration, as the pair scored 2-8 between them against Meath.
In Cork's semi-final against Galway, Quirke (1-7) and Keating (1-4) were in sparkling form, bagging a combined 2-11.
Cork: 
| | | |
| --- | --- | --- |
| 1 | Sarah Murphy | Bride Rovers |
| 2 | Róisín Ní Chorcora | Naomh Abán |
| 3 | Ellen Baker | Glanmire |
| 4 | Rachel Sheehan | Passage West |
| 5 | Erika O'Shea | Macroom |
| 6 | Isobel Sheehan | Éire Óg |
| 7 | Claudia Keane | Donoughmore |
| 8 | Eve Mullins | Rockbán |
| 9 | Abbie O'Mahony | Glanmire |
| 10 | Cliona Dooley | Ballinora |
| 11 | Jennifer Murphy | Kinsale |
| 12 | Faye Ahern | Kinsale |
| 13 | Ellie Jack | Mourneabbey |
| 14 | Katie Quirke | Bride Rovers |
| 15 | Fiona Keating | Courcey Rovers |
| 16 | Caoimhe Forde | Kanturk |
| 17 | Robin Fraher | Nemo Rangers |
| 18 | Áine Keating | Kildorrery |
| 19 | Sally McCarthy | Kildorrery |
| 20 | Aoife McTaggart | Nemo Rangers |
| 21 | Ciara Irwin | Inch Rovers |
| 22 | Christina O'Sullivan | Beara |
| 23 | Aoife Twomey | Macroom |
| 24 | Ashling Cronin | Mourneabbey |
| 25 | Kayla O'Connor | Glanmire |
| 26 | Julie Lankford | Bishopstown |
| 27 | Eva Langford | Killavullen |
| 28 | Shauna Murphy | Glanmire |
| 29 | Meabh Kelly | Éire Óg |
| 30 | Bridget Wall | Aghada |
Monaghan: 
| | | |
| --- | --- | --- |
| 1 | CLARE DUFFY | LATTON |
| 2 | CAOIMHE BRENNAN | ST. BRIGID'S |
| 3 | MAEVE MONAGHAN | EMMET Ógs |
| 4 | AMY GARLAND | DONAGHMOYNE |
| 5 | EIMEAR TRAYNOR | DONAGHMOYNE |
| 6 | JENNIFER DUFFY | O' NEILL'S |
| 7 | LAUREN GARLAND | DONAGHMOYNE |
| 8 | AISLING MC ANESPIE | EMYVALE |
| 9 | MICHAELA LINDEN | ST. BRIGID'S |
| 10 | CAOIMHE WARD | O' NEILL'S |
| 11 | AINE LOUGHMAN | CARRICKMACROSS |
| 12 | JANE DUFFY | LATTON |
| 13 | HANNAH SHERLOCK | SCOTSTOWN |
| 14 | JAYNE DRURY | ST. BRIGID'S |
| 15 | MACAYLA GREENAN | KILLEEVAN |
| 16 | EIMEAR CALLAN | CARRICKMACROSS |
| 17 | Emilie Culleton | LATTON |
| 18 | EMMA McKEOWN | Aghabog |
| 19 | DANIELLE COLLIER | DONAGHMOYNE |
| 20 | CLIODHNA McARDLE | TYHOLLAND |
| 21 | KATIE CARRAGHER | O' NEILL'S |
| 22 | MEGAN MILLER | ST. BRIGID'S |
| 23 | CEILE MURPHY | INNISKEEN |
| 24 | Laura Walsh | Killanny |
| 25 | Sarah Wilson | Castleblayney |
| 26 | Sarah Warman | MONAGHAN HARPS |
| 27 | EMILY BRENNAN | EMYVALE |
| 28 | CIARA DUFFY | DONAGHMOYNE |
| 29 | AMY MONAHAN | SCOTSTOWN |
| 30 | JANELLE McGOVERN | KILLEEVAN |