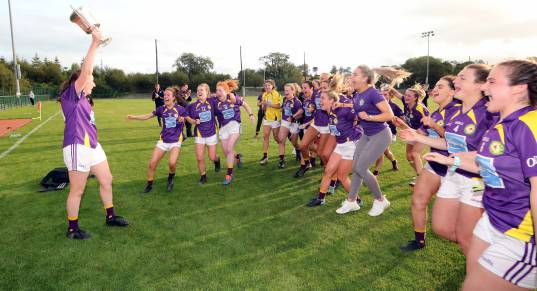 Picture By Jim Coughlan
By Rory Noonan
West Cork 4-9 Mourneabbey 2-13
THEY have close in recent years but finally West Cork are county champions after defeating Mourneabbey in the Senior A ladies football final at CIT.
This was their third final in-a-row and it was sheer delight at the final whistle as they took the cup, stopping Mourneabbey making it seven on the bounce.
This was a superb game with some quality football from both sides, with the likes of Libby Coppinger, Eimear and Daire Kiely and Melissa Duggan outstanding for the winners.
Coppinger hit 2-3 and led their attack all through and was a constant threat to the Mourneabbey defence all through.
The defending champions gave it everything and certainly can't be faulted for their efforts with Maire O'Callaghan and Doireann O'Sullivan the pick of their side. But referee Justin Murphy won't have too many friends amongst their supporters as they had reason to question a number of his decisions over the 60 minutes.
The game was less than 30 seconds old when Mourneabbey took the lead with Laura Fitzgerald found the back of the net and a minute later they went further in front when Brid O'Sullivan pointed.
Using the wind to its full advantage they increased their lead, when Ellie Jack pointed, to make it 1-2 to no score.
But West Cork hit back and a great run by Aine O'Sullivan found Coppinger and she blasted to the back of the net.
But Mourneabbey hit back straight away with Doireann O'Sullivan goaling after some good work by Fitzgerald and Brid O'Sullivan.
Aine O'Sullivan pointed from a free for West Cork, before Coppinger looked like getting their second goal. But a superb save from Meabh O'Sullivan denied her.
Rachel Murphy pointed for West Cork and with 17 minutes gone the sides were level again. A brilliant run by Eimear Kiely saw her find the back of the net, to make it 2-2 apiece.
Jack and Doireann O'Sullivan put Mourneabbey two up again, but one from Coppinger, followed by two frees from Aine O'Sullivan saw West Cork take the lead, with 26 minutes gone.
Doireann O'Sullivan, Mourneabbey, closes in on Eve Murphy, West Cork. Pictures: Jim Coughlan.
Then the champions lost their influential midfielder, Maire O'Callaghan, after a clash with Rachel Murphy.
Credit to O'Callaghan she returned for the second half and at the break, another goal from Coppinger saw West Cork lead 3-5 to 2-7.
Early points from Fitzgerald and Doireann put Mourneabbey back in front, with Coppinger levelling it again.
Points from Daire Kiely and Coppinger made it 3-8 to 2-10, with 42 minutes gone before Ciara O'Sullivan equalised.
Doireann O'Sullivan put Mourneabbey back in front with Aine O'Sullivan on target from a free, to make it 3-9 to 2-12.
The telling score came in the 54th minute when Coppinger played Daire Kiely in and she found the back of the net for their fourth goal.
Mourneabbey battled to the end with Doireann pulling a point back from a free, but time ran out and West Cork took the title for the first time after a highly entertaining game.
Afterward there was some concern for Doireann O'Sullivan who felt unwell after the game and had to be taken to hospital.
Scorers for West Cork: L Coppinger 2-3, D Kiely 1-1, E Kiely 1-0, A O'Sullivan 0-4 f, R Murphy 0-1.
Mourneabbey: D O'Sullivan 1-5 (0-3 f), L Fitzgerald 1-2, C O'Sullivan 0-3, E Jack 0-2, B O'Sullivan 0-1.
WEST CORK: M O'Brien (Clon); S Courtney (Castlehaven), S Hayes (Rosscarbery), C O'Sullivan (Beara); E Spillane (Bantry), C O'Shea (Beara), M Duggan (Dohenys); E Murphy (Bantry), E Kiely (Valley Rovers); Aine Terry O'Sullivan (Beara), R Murphy (Bantry), L Harte (O'Donovan Rossa); F Keating (Courcey Rovers), L Coppinger (St Colum's), D Kiely (Valley Rovers).
Subs: C Maguire (Rosscarbery) for C O'Sullivan (h-t), M O'Donovan (Clon) for E Murphy(51), M Barrett (Clon) for A O'Sullivan (58).
MOURNEABBEY: M O'Sullivan; A O'Sullivan, E Meaney, A Walsh; E Coakley, K Coakley, A Ryan; M O'Callaghan, R O'Sullivan; C O'Sullivan, E Jack, N O'Sullivan; B O'Sullivan, D O'Sullivan, L Fitzgerald.
Subs: A Cronin for M O'Callaghan (25), M O'Callaghan for A Cronin (h-t), A Cronin for E Coakley, S Conroy for A Walsh (both 43), C Harrington for R O'Sullivan (55).
Referee: Justin McCarthy, Castletownroche.